Ron Bazar form
Canada
Dear Fellow Prostate Friend,
I am writing to you on my last day at the 3D Prostate Clinic in Xiangtan China following the very successful treatment of my extremely enlarged prostate.
In fact my prostate was the largest by a huge margin of any that the clinic has treated, a staggering 240 grams which was 12 times normal size! For me this has been a miracle, a cure that I have dreamed about and searched for 15 years.
Some of you may already know me from my website :

or from one of my prostate books: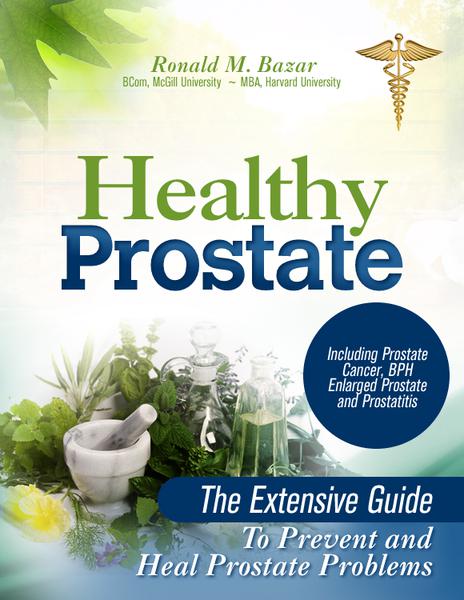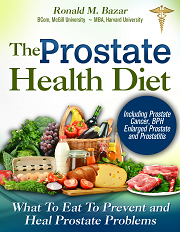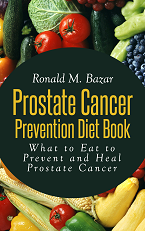 My story began 15 years ago when I woke to pee but couldn't. I was completely blocked and needed an emergency catheterization by my local doctor. I was scheduled for emergency surgery but chose not to do it because of the risks of unacceptable side effects. I made it a quest to find a natural solution to my enlarged prostate.
I found some useful insights, many not so helpful, and found ways that helped me with my condition, even believing I had turned the corner through major diet changes. This helped me a lot and I wrote about it in my first book and website, and then expanded on that with the other books.
But in the end I realized I was just coping better than before but still had symptoms of frequency and occasional blockage when I ate something that triggered a prostate attack.
In 2015 I went to Portugal for a non-invasive high tech procedure called Prostate Artery Embolization. It helped a tiny bit but not enough to make the difference I still wanted.
In early 2016, I found out about the 3D Prostate Clinic from one of my subscribers. I then researched the info on the site and had correspondence with the clinic and emails to other patients. I knew right away that this was the clinic and approach I had dreamed about… someone who actually described the causes of my condition and a breakthrough non-invasive way to treat it with precision targeted medicines, and had a very high success rate.
I first came to China in late February 2016 and stayed for 6 weeks. Because of my extreme prostate size, a second visit was needed and I arrived here 4 weeks ago for the next round. The result… an actual cure, a real shrinking of my prostate size from 240 grams to somewhere around 80 grams now to further shrinkage to occur in the next 6 months of recovery time!
At long last the hyper-frequency, the extreme urgency, the occasional blockage, the hypersensitivity to the wrong food — all gone already.
I am a new man with a new lease on life!
So dear reader, I write to you from my heart because I know what it is like to suffer so much quietly and helplessly. If you are reading this then very likely you are a bit of an exception to the rule of just following what your urologist wants you to do.
That road was not for me. My path led to here and I am so grateful.
This way is not for everyone as there are hurdles of expense, time and travel that will challenge many of you. But for those that can, then I am here to share my story and results. You will find attached at the end of this testimonial my complete medical report from the clinic that I certify is true.
I want men to be able to find this site and the info about the clinic. Because of the gap between China and the west, I asked Dr. Song if I could become the clinic's Ambassador-at-Large to share my story here on the 3D website, on my website and on my newsletters and soon a book about my experience here. And now I will have to update all my existing books with this amazing 3D Prostate Cure!
I will be brief because I will let my medical report speak for itself.
But I will ask you this question.
Why has your doctor or urologist never looked at your prostate fluid to see what pathogens were there? Don't you think that this should be the most basic and preliminary test? But none was ever done for me, and I have never heard of any doctor doing this. That astounds me! I could almost say it is negligence. Because by so doing, the answer is clear: you can see why you have the prostate problem you suffer from.
This was a huge breakthrough of simple common sense that Dr. Song discovered almost three decades ago. And that led to his breakthrough treatment protocols.
Before and after summary:
Before After
PSA 19.39ng/ml 1.75ng/ml
(with its Standard Reference Value below <4ng/ml).
Blood testosterone 7.36nmo/L 15.8nmo/L
(with its Standard Reference Range between 14 and 25.5nmo/L)
But a couple of pictures are worth thousands of words!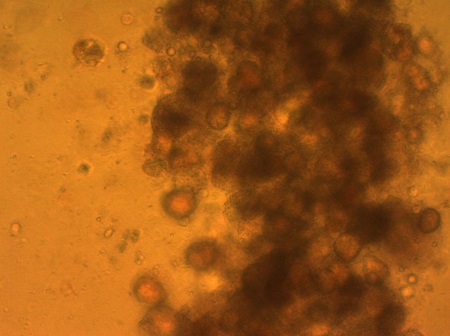 Before treatment: not a happy prostate!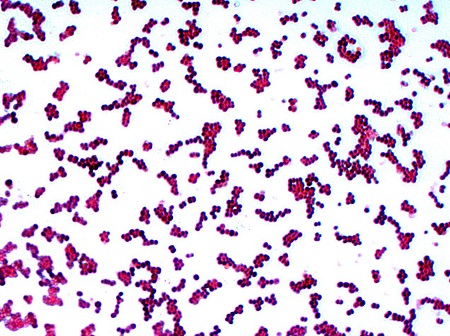 Bacteria: Staphylococcus Aureus and Streptococcus.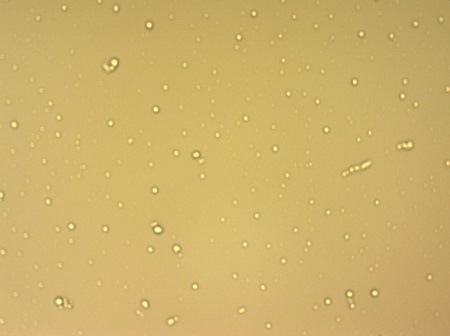 After: cleared up showing healthy lecithin.
What to expect in China: Treatment Info
Let me explain how your day-to-day treatment takes place.
Each day you will be given a time to show up at the clinic. You will be asked all about your past 24 hours: how you slept, how frequently you peed, how urgent, how was the flow, bowel movement, pain, discharges, eating, questions.
The answers allow the doctors to tailor-make your daily injections to your exact condition and progress. You will get 2 of them each day on opposite sides of the prostate delivered adjacent to the anus through your perineum. The procedure only takes a couple of minutes. There is some discomfort and minor pain for a few moments. But many men have done this and so can you, a minor thing for a cure.
The clinics are meticulously cleaned every day. The injections are all disposable needles, the medicines all pharmaceutical grade. The medical skill and knowledge are profound.
You will most likely need to go to the local hospital with the translator for medical tests like MRI or ultrasound as needed, plus blood-work testing including the world's most advanced for over 20 different viruses. Costs are very inexpensive.
You may need anti-viral medicine transfusions to help your system rid itself of viruses that are in your body and prostate. This happens in the clinic for a 2-week period. It is safe and easy. Ask the clinic for the price.
About China
My advice is to ignore the very exaggerated excesses of western media about this amazing country. The people are friendly; mostly you are a bit of a curiosity in this city where there are almost no foreigners and no English. The food is very abundant, fresh and safe to eat as is the water to drink in the teas they serve. I never once had any indigestion problem here. And I am hyper-sensitive as I explained earlier.
The streets are safe, no crime, no porn, police carry no weapons, just a whistle. I have walked alone at night on side streets, deserted parks, under street walkways with no graffiti anywhere. I feel safer than any city back home. I leave my computer and passport in my room. I never once worried about pickpocketing with my wallet in my back pocket easily visible.
The air can be smoggy sometimes but nothing like the big coastal or industrial cities. Often it can be overcast. I wore a mask a few times on my first visit but not the second time. It is not a big deal.
One thing that does bother me is the prevalence of smoking here in China. The non-smoking laws in public places are not enforced. I have on occasion asked nearby smokers in restaurants to butt-out with a friendly smile and always granted.
Oh, I should tell you there is no tipping in China. That sure makes life easier!
The weather can range quite a bit from cold to hot during your stay unless summer time, so bring appropriate stuff.
I really like the MGM hotel for its location. I ask for a non-smoking room. The breakfast buffet always has lots of fresh fruits, and many dishes for you to pick and choose. It is a 45 minute walk straight to the clinic going one way, and a 10 minute walk to a huge mall full of restaurants the other way. I make walking a part of my day for its benefits to the treatment and overall exercise pluses.
The clinic can give you a restaurant dish request translation sheet that can help you. There are several western chains here with much better food choices than at home, customized for China (downstairs from the clinic is one).
One of my favorite places to eat is a buffet style all you can eat for about $7 that comes around on a conveyor for you to pick and choose and heat up in your pot… maybe a hundred or more items to choose. Avoid the noodles so you have lots of room for all the other dishes! You can easily get by on $20-$25 per day, especially since breakfast can be quite big and is part of the hotel rate.
Oh, just to add… I have spoken to other patients here of course about their treatments and I can assure you that their testimonials are valid and from them alone.
The clinics have a highly successful cure rate despite treating mostly very complex cases with men who have tried many other ways unsuccessfully. To achieve this is a testament to the skill, knowledge and dedication that you will find here.
By the way, one thing I liked was that you don't pay in advance, so if at the start you decide it is not for you, your risk is just the travel costs, etc.
But I have seen patients come there for a simple consultation and decided right away after diagnosis to start treatment.
All my best to you on your healing path,
Ron Bazar
ps. If you want any of my books, I will send them to you no charge.
ps. You can read my medical report here.

ps. You can also watch my video here.
https://www.facebook.com/prostatitiscure/videos/243207179366713/