A latest story happened in 3D prostate clinics
Notes: This is a latest story happened in the clinic. Mr. S has suffered from prostatitis for many years, experienced past treatment failures, and had severe side-effects caused by medications. Mr. S entrusted his relative who has studied in China to pay a visit to the Changsha 3D Clinic. Without encountering any constraint, his relative got the treatment progresses of the patients who were receiving the treatment. The patients all offered replies expressing their satisfaction with the treatment to his relative. Mr. C, a warm-hearted patient of our clinic, offered his E-mails. At last, Mr. S chose to the Xiangtan 3D Clinic to receive the treatment from Dr. Song (he has been working in the Xiangtan 3D Clinic since June, 2015). After the overall examinations, his condition was found very complex. At present, he gets a rather good treatment effect and voluntarily recommends our clinic to his friends.
Based on the principle of preserving the patients' privacy, our clinic cannot disclose any personal information of the patient. We appreciate his trust that he has offered this information to us.
Attachments:
The e-mail Mr. S sent to Mr. C:
Hello. Hope you are fine. I am the uncle of the lady you spoke to about the 3d Prostatitis treatment in Changsha. I was diagnosed with a case of prostatitis for years and sought for several treatment options without success until I discovered the 3d treatment by Dr. Song on the internet.
Please I require first hand information about the injection procedure, which organ is injected and the side effects if any. Also, Please detail me about the entire treatment.
Thank you. Awaiting your response urgently.
Reply from Mr. C:
Dr. Song, Belinda and Dr. Lee and the in-house microbiologist have extensive experience in the Genitourinary System thereby allowing them to figure-out the cause or causes of Prostatitis and related diseases. My prostate is 95% back to normal as of today along with cessation of my secondary symptoms (CPPS, etc.).
Belinda is why i decided to give the clinic a try after careful evaluation of clinics around the world. She answered over 200 emails concisely without delay and in a compassionate manner, she's fully aware of the anxiety precipitated by the illness.
After meeting Dr. Song and undergoing a comprehensive evaluation and reviewing the clinic, I made up my mind to carry through with the entire treatment protocol.
Dr. song is a humble and compassionate man and he is willing to listen to your symptoms and answer any question you may have with compassion for your situation
Nonetheless, he's an expert at what he does and I let him do his thing without second-guessing him; however, I gave them input along the way, regard to my daily symptoms, as to help them help me.
As for as the protocol, each person is different and this is based on your examination. The procedure is basically painless in my experience.
Dr. Song and Dr. Lee are very caring and compassionate people and they are excellent in their technique. Most days I didn't feel any pain at all what a days that I did feel pain it was negligible; i.e., The level of 1 to 10, The pain level was 2.
Just as important, Dr. song's approach is conservative in that he does not want to administer modalities that may not be necessary. This treatment protocol along away may change specific to one as disease, as there are many causes of prostatitis and secondary any symptoms are unique to each individual.
He will base it on his daily observations.
So far, I'm returning home about 95% symptom-free. I can sit without any discomfort at all I can walk with no discomfort and my other symptoms are about 95% gone. No it's up to me to follow their instructions regarding lifestyle, exercise diet etc.
Best wishes to you and I hope this information helps out.
August 30th 2015 - Update from Mr. C
Hi Belinda,
I hope that you and your family are doing well. Please say hello to Dr. song and Dr. Lee and give them my many thanks for my recovery.
I'm 100% better and I keep my fingers crossed.
I feel like myself again.If it wasn't for 3-D clinic I may not be healthy again.
I was in a Chinese restaurant two weeks ago here in Pittsburgh where I live and I asked for chopsticks and the girl said to me where did you learn to use chopsticks and I said in China she said where at in China I said CHANGSHA. She said that's my hometown. It's a small world isn't it.
The final update from the 3D prostate clinic:
After received 40 days of 3D treatment with Dr. song, Mr. C and Mr. S, two of them are cured, and back to health.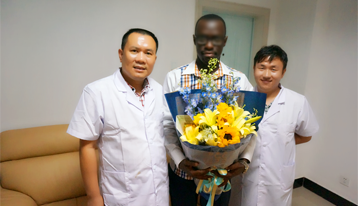 Note: If you have a special ask to contact this patient, the clinic can provide his contact information.